Event organiser: Missmilla GmbH, Holzstraße 28, 80469 München, Deutschland
Event info
Aaron Brooks, the Akron, Ohio-born singer-songwriter of acclaimed American psychedelic rock band Simeon Soul Charger returned after a 2 year absence to his musical playground with his celebrated debut album "HOMUNCULUS," a varied collection of psychedelic rock, folk, Americana, and orchestral offerings, released in late 2018. In 2019, Brooks toured the European continent spanning 12 countries with his unique brand of cinematic genre-bending anthems, abiding by an authentically nomadic lifestyle reminiscent of a bygone era. Brooks is expected to release his anticipated follow-up to "HOMUNCULUS" in 2020.
Videos
Location
Milla Club
Holzstraße 28
80469 München
Germany
Plan route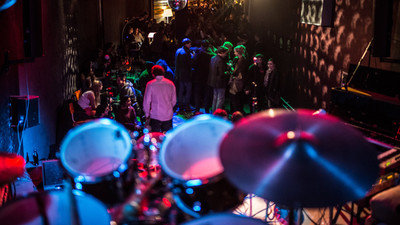 Klein hat sie angefangen, die Milla in München. Mittlerweile stehen aber so gut wie jeden Abend Künstler der verschiedensten Genres auf der Bühne des kleinen Lokals, gelegen im angesagtesten Viertel Münchens, das Glockenbachviertel. Das Ambiente des Live-Clubs ist einzigartig. Ein langer schmaler Raum (früher lief hier ein Bach entlang) ist ausgestattet mit alten Polstersofas und rustikalen Holzbänken und das Bier könnte auch mal kippen, denn alles ist leicht schräg.

Schräg. Das beschreibt die Milla eigentlich perfekt und das ist, was die Gäste an dieser Lokalität so lieben. Auf die Idee einer solchen Bar kommt auch nicht irgendwer. Nein, Gerd Baumann (Musiker und Komponist), Peter Brugger (Sportfreunde Stiller) und Till Hofmann (Betreiber des Münchner Lustspielhauses) sind die Initiatoren der Milla. Bei so viel Prominenz kann es dann schon mal vorkommen, dass die Schöpfer selber mal auf der Bühne stehen und ein bisschen rum experimentieren.

Die Milla hat Charakter und ist so ganz anders als die anderen Bars und Clubs in München. Und genau das macht sie so besonders und ist auf jeden Fall einen Besuch wert. Sie erreichen die Milla am besten mit den Öffentlichen Verkehrsmitteln. Von der Tram- und U-Bahnhaltestelle "Sendlinger Tor" bzw. "Fraunhoferstraße" sind es nur wenige Gehminuten in die Holzstraße.