Cameron Carpenter
Siemensstr. 11
70469
Stuttgart
Tickets from €36.65
Concessions available
Event organiser: SKS Erwin Russ GmbH, Charlottenplatz 17, 70173 Stuttgart, Deutschland
Event info
Programm
Johann Sebastian Bach (1685-1750): Präludium und Fuge Es-Dur BWV 552 für Orgel
Präludium
Fuge

Sigfrid Karg-Elert (1877-1933): "The Legend of the Mountain" aus: "7 Pastels from the Lake of Constance" op. 96 für Orgel

Max Reger (1873-1916): Sieben Stücke für Orgel op. 145
Weihnachten
Johannes Brahms (1833-1897): Es ist ein Ros entsprungen - Choralvorspiel op. posth. 122 Nr. 8

JohannSebastian Bach (1685-1750): In dulci jubilo (Orgelbüchlein) BWV 608
Johann Sebastian Bach (1685-1750): Präludium und Fuge D-Dur BWV 532

Pause

Leroy Anderson (1908-1975): "A Christmas Festival" (arrangiert für Orgel von Cameron Carpenter)

Howard Blake (geb. 1938): Walking in the Air (aus: "The Snowman", arr.: C. Carpenter)

Arr. Cameron Carpenter (geb. 1981): "Christmas from the Golden Age of Radio"
Hugh Martin (1914-2011): Have Yourself a Merry Little Christmas
Walter Kent (1911-1994): I´ll be Home for Christmas
Jerry Herman (geb. 1931): We need a Little Christmas
Cameron Carpenter (geb. 1981): Improvisation - Symphony on German Christmas Carols
I.
II.
III.
Location
Theaterhaus
Siemensstr. 11
70469 Stuttgart
Germany
Plan route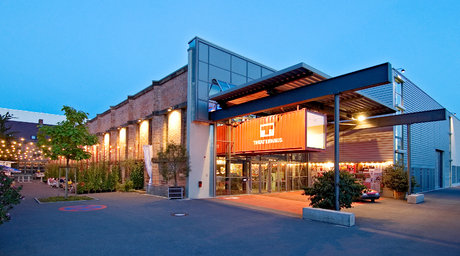 Ein einziger Ort, der Kunst, Kultur und Sport verbindet – Dieser Traum ist 1985 mit der Gründung des Theaterhaus Stuttgart e.V. wahr geworden! Seit 2003 ist der Sitz in den ehemaligen Rheinstahlhallen nahe dem Pragsattel im Norden Stuttgarts. Dort sucht das Theaterhaus Stuttgart mit seinen vier Veranstaltungshallen, dem Glashaus und der Sporthalle europaweit nach seinesgleichen.

Pro Jahr sind mehr als 300.000 Besucher bei Veranstaltungen aller Art anzutreffen: Theater, Tanz, Shows, Konzerte, Comedy, Kabarett, Lesungen, Kongresse, Sportevents… Zudem richtet das Theaterhaus seit 1987 jährlich die Theaterhaus Jazztage aus, sowie seit 2015 biennal das COLOURS International Dance Festival. Mit dem Theaterhaus Schauspielensemble und der Gauthier Dance//Dance Company Theaterhaus Stuttgart erfreut sich das Veranstaltungshaus zweier ausgezeichneter und erfolgreicher Ensembles.

Das Theaterhaus Stuttgart ist eines der bedeutendsten seiner Art und inzwischen ein einzigartiges Kulturzentrum.