Abgesagt
Bisheriges Datum:
KATIE MELUA - Live In Concert 2020
Katie Melua &nbsp
Holger-Börner-Platz 1
34119
Kassel
Event organiser:
MM Konzerte GmbH, Frankfurter Str. 92, 34121 Kassel, Deutschland
Die Veranstaltung ist abgesagt.
Event info
Katie Melua
Artist Biography – November 2019

Katie Melua is one of Britain´s most successful musical artists, having sold in excess of 11 million albums and received over 56 platinum awards. The 35-year old is originally from Tbilisi, Georgia and moved to the UK at a young age where she studied at the acclaimed Brit School of Performing Arts. It is her extraordinary voice, and the ability to truly inhabit a song, that has been her trademark since the young 19 year old school graduate first appeared in 2003 performing The Closest Thing To Crazy. One of the UK's highest-selling female recording artists of all time, Katie has released 7 top 10 studio albums – 'Call Off The Search', 'Piece By Piece', 'Pictures', 'The House', 'Secret Symphony', 'Ketevan' and, most recently, 2016's self-produced, critically acclaimed 'In Winter'. An accomplished songwriter, composer, and arranger some of Melua´s most well-known hits include Nine Million Bicycles, The Closest Thing to Crazy, and her now infamous cover of Wonderful Life. A constantly in-demand touring artist, Melua enchants her audiences worldwide with her uniquely powerful and captivating voice, flawless performances, and charming personality.

2019 sees the release of Melua's latest 2xCD live album featuring Gori Women's Choir, and 2020 will see the release of new studio recordings alongside an extensive UK and European set of headline dates.
Location
Kongress Palais Kassel
Holger-Börner-Platz 1
34119 Kassel
Germany
Plan route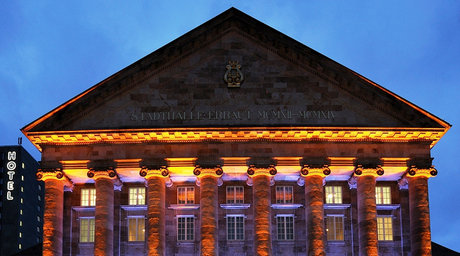 Seit 1914 dient das Kongress Palais Kassel (auch Stadthalle Kassel genannt) als Veranstaltungshalle und Kongresszentrum der nordhessischen Großstadt Kassel. Ob Kongresse, Tagungen, Messen, Ausstellungen, Meetings, Konzerte oder Events - das Kongress Palais Kassel bietet flexible Möglichkeiten für jede Art von Veranstaltung.

Das monumentale Gebäude steht im Stadtteil "Vorderer Westen" auf dem Gelände des ehemaligen Floraparks, begeistert mit einer neoklassizistischen Architektur und vereint diese mit fortschrittlicher Technik. Die Räumlichkeiten präsentieren sich elegant und schaffen eine beeindruckende sowie spektakuläre Atmosphäre. Neben dem großen Festsaal, in dem insgesamt bis zu 2.950 Personen Platz finden können, befinden sich auf 8.500 m² weitere 39 Vortrags-, Tagungs- und Meetingräume. Allesamt sind mit modernster Tagungstechnik ausgestattet.

Das Kongress Palais Kassel ist zukunftsweisend, denn sowohl der rücksichtsvolle Umgang mit Ressourcen als auch die optimale Erreichbarkeit durch die öffentlichen Verkehrsmittel sind einzigartig. In den Räumlichkeiten des Konzert- und Kongresszentrums werden Sie großartige Veranstaltungen und unvergessliche Momente erleben.