PERSISTENCE TOUR 2020 - feat. GORILLA BISCUITS + AGNOSTIC FRONT + H2O + STREET DOGS and more
Reitknechtstr. 6
80639
München
Event organiser: Backstage Concerts GmbH, Reitknechtstr. 6, 80639 München, Deutschland
Event info
Persistence Tour 2020! Every year - it rumbles in January enormous! When Europe's longest-running and most successful Indore Festival tour for Hardcore, Punk and what´s going on there, returns impressively. With some of the best names the world of Hardcore has to give as well some of the new wind the list of Bands who started or refreshed the carrier via the tour is after all the decade's kind of endless. It was the first tour concept tour and it is still running because of you , thank you.
Location
BACKSTAGE Kultur- und Veranstaltungszentrum
Reitknechtstraße 6
80639 München
Germany
Plan route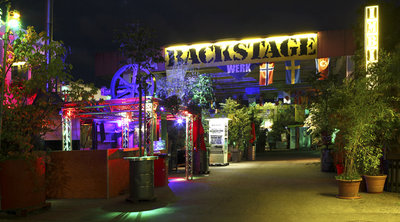 Das BACKSTAGE in München ist eines der bekanntesten Kultur- und Veranstaltungszentren in München. Die Räumlichkeiten des BACKSTAGE erstrecken sich von der BS-Halle über den BS-Club bis zum BS-Werk. Der Außenbereich lockt mit seinem großzügigen Biergarten alle Sonnenliebhaber sowie Frischluftfanatiker an.

Im BACKSTAGE Kultur- und Veranstaltungszentrum finden Konzerte, Festivals, Tanzveranstaltungen, Sportübertragungen sowie Kleinkunstevents und auch Ausstellungen und Märkte statt. Das Angebot an musikalischen Genres ist ebenfalls breit gefächert. Von Hip Hop über Reggea, Alternative, Independent und Electronic bis hin zu Rock, Funk & Soul ist hier wirklich alles vertreten. Die Räumlichkeiten des BACKSTAGEs eignen sich somit für Partys und Veranstaltungen jeglicher Art. Dass Eminem hier sein erstes Deutschland-Konzert gegeben hat, zählt wohl zu eines der größten Highlights. Aber auch andere bekannte Künstler wie Paolo Nutini oder Jamaram locken Fans nach München ins BACKSTAGE.

Mieten Sie das BACKSTAGE oder einzelne Bereiche des Kultur- und Veranstaltungszentrums für private Events oder besuchen Sie die Veranstaltungen aus dem Programm. Sie erreichen das Gelände bequem mit allen Münchner S-Bahnlinien (Haltestelle Hirschgarten), den TRAM-Linien 16/17/N16 (Haltestelle Steubenplatz) und 18/19/N19 (Haltestelle Lautensackstraße) sowie vereinzelten Buslinien. Für Gäste, die mit dem Auto kommen, gibt es kostenfreie Parkplätze vor dem BACKSTAGE.